At Shifa Dental, one of our dental services we offer to Plano patients is X-rays. Our dentists use this technique to understand and diagnose oral problems that may not be visible to the human eye. X-Rays help our dentists see the root of your teeth, locate cavities, check the gums for periodontal diseases, observe developing teeth, and check the area around each tooth. Additionally, our Texas dentist office uses X-Rays to monitor the overall health of the patient's mouth. X-Rays can act as both a preventative measure as well as a diagnostic process.
Included in our Plano dental services, we have a variety of dental X-Ray options available at Shifa Dental. Different types of X-Rays show our dentists different information, so the specific X-Ray chosen will depend on the patients' condition. Some of the determining factors for choosing an X-Ray include the condition, severity, and likeliness of the disease to spread. Our patients can count on our dental care expertise to order the right X-Ray to correctly solve their dental problem. We take this step very seriously to eliminate any future risk or issue.
The most four common X-rays ordered for patients at our Texas dentist office are:
Bitewing X-Ray: This X-Ray enables your Plano dentist to take a closer look at your posterior teeth. Bitewing X-rays show your dentist how these teeth occlude with one another. With the results of this X-Ray, your dentist analyzes whether any deformity is present in between the teeth at the back.
Periapical X-Ray: This X-Ray is prescribed when your dentist is concerned about the structure of a tooth. The result of this X-Ray shows the complete tooth, from crown to the last bone that supports the tooth.
Occlusal X-Ray: Generally, this type of X-Ray is performed on children as it shows the development of adult and baby teeth. This helps your dentist analyze any dental care problems during early development of the teeth.
Panoramic X-Ray: A Panoramic X-Ray is prescribed when your dentist wishes to see a clear, panoramic image of your teeth, nasal area, jaws and their joints, and sinuses.
Other than the aforementioned X-rays, Shifa Dental, your trusted Plano dentist office, has a wide range of other X-Ray and dental care options available.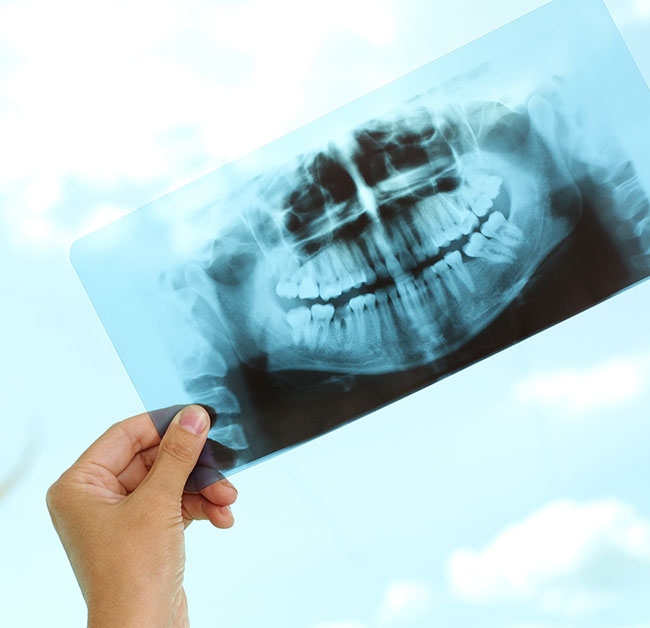 Happy Stories
Creating Vibrant Smiles for Healthy Lifestyles!
Appointment scheduling: very easy, every time get a call back if front desk is not able to answer. Very quick to respond and accommodate your schedule. Very polite.Facility : very descent facility Support staff : probably the best support staff I have seen at any dentist Doctor : Very professional. Explained me the Complete treatment.

Sunil tejpal

As always, I had the best doctor and superb services at Shifa Dental. I never felt the need to go to any other dentist after coming to this place a couple of years ago. Their attention to details is masterful and coupled with the care for their patients they show is truly wonderful. A big thank to all the people at Shifa Dental.

Chandu Chatterjee

It was my first time here and it was a great experience. I have sensitive teeth so they would check in to make sure the cleaning was feeling okay. The staff was very personable and I did not have to wait long. I would highly recommend!

Alexandra Smith

The place is very clean. Necessary precautions were taken by the staff amidst the pandemic and it shows in the quality of the dental service. Deepa K explained to me in detail and ways as to improve where needed regarding my teeth. Mariam and other staff members are courteous. Overall very impressed. This is my second visit.

Ram Venkatram

The doctor and staff was amazing!!!! I loved how the service was I went in and came out extremely fast. Now this is my permanent doctor!

Umar Abdulwadood
HAVE A QUESTION?
FAQ
We are here to help you 7 days a week and respond within 24 hours. Plus, you can find most answers to your questions right on this page.
1Why do I need dental X-rays
Dental x-rays are just one of the tools in our oral health toolbox. Cleaning and visual examinations of your teeth, gums, and the rest of your mouth keep the exposed areas of your mouth healthy. Without x-rays, dentists can't see what's going on beneath the gum line or inside the teeth themselves. While you may ask why you need x-rays when there are no visible signs of a problem, this equipment can detect possible problems (such as minor cavities) early on, allowing you to treat them before they become much more serious.
2Should I be worried about radiation?
Many patients are concerned about the quantity of radiation involved in dental x-rays, but the amount of radiation is negligible, and patients are given all available safeguards, including a lead-lined apron to cover areas of the body that may be exposed to x-rays. Furthermore, x-rays will only be taken when absolutely necessary to avoid putting you at risk.