Understanding dental implants
Dental implants from your expert dentist in Plano, TX
A dental implant, in the most basic terms, can be described as an artificial root. Your Plano dentist will place this root in one's jaw to firmly hold the fake or replacement tooth in place. In medical terms, there are two types of dental implants:
The definition of these terms may be confusing to the patients. However, when a patient visits, the dental implant experts at Shifa Dental will explain the restorative dentistry options to the patient with the help of available diagrams and dental model.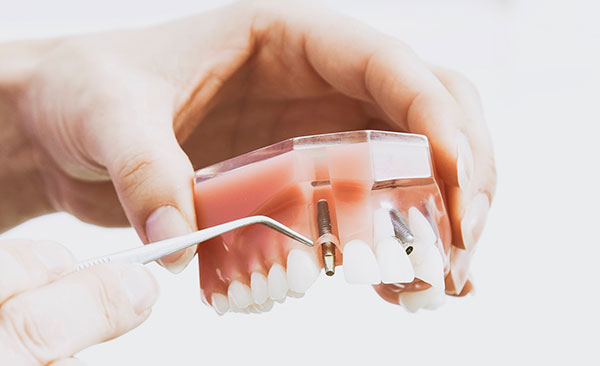 The three types of dental implants are:
Single Tooth Dental Implant | Multiple Tooth Dental Implant | Full Mouth Dental Implant
Single Tooth Implant:
This process refers to implanting a single tooth. If someone is missing one tooth, and they wish to opt for an implant, then they should go for this category of implant. In this process the tooth as well as the root is replaced.
Multiple Tooth Dental Implant:
As the name suggests, this process replaces several teeth in a patient's mouth.
Full Mouth Dental Implant:
In this process, all the teeth are replaced.
Our Plano dentists perform dental implants on patients who fulfill the basic criteria and eligibility for this surgery and they must have good oral health. This process requires that the bones in the candidate's jaw be in their best form. Additionally, one must have sufficient bones in their jaw. Throughout the process, periodontists are made available at Shifa Dental to consult and guide the patient. Periodontists deal with this particular area of the mouth, and therefore, their inputs are highly valued.
After a successful dental implant, our Plano dentists will prepare a care plan for your teeth. They will recommend flossing and brushing your teeth. Periodontists work closely with our Plano dentists to monitor the affected teeth/tooth. This ensures that you do not face any issues later.