Our Dentures Can Restore Your Smile
You won't be able to stop smiling with your new dentures
At Shifa Dental, our professional and experienced dentists excel when it comes to dentures. Generally, our dentists will recommend dentures to patients who have lost all or most of their teeth. Complete dentures are those which replace all of the missing teeth of a patient; whereas, partial dentures are used when patients are missing a good amount of teeth but not all of them.
One may lose teeth as a result of aging, accident, injury, decay, or periodontal disease. Whatever may the case be, one should never keep the space open created due to the loss of the teeth. Failing to do so may invite various gum related diseases, infection, attack of bacteria, etc. This list goes on to include several fatal problems. Therefore, it is important to get the teeth replaced with the appropriate option recommended by our dental care experts.
Depending on the condition of the patient's mouth, your dentist may recommend a dental implant, bridge, dentures, or another traditional method of restorative dentistry. If the option of dentures is available to you, your dentist will explain to you why it is the best option in your case. They will explain all the benefits as well as the precautions associated with the usage of dentures.
Be Comfortable In Your Smile And Your Dentures
Rest assured, dentures are very comfortable to apply. Our patients regularly report an improved lifestyle after getting dentures. After applying the dentures, our dentists will schedule a few mandatory follow-up appointments.
During these visits, they will monitor the status of your gums, dentures, and your overall oral health. If they feel there is any issue with your gums, or if they suspect any sign of periodontal disease, they will explain the precautionary measures you should take. When patients follow their dentist's suggestions, they can easily eliminate the risk of being prone to any oral diseases.
Additionally, your dentist will provide a dental kit with necessary aids to help with your dentures. Your dentist will explain the exact steps to follow to clean your new dentures and discuss the do's and don'ts to follow.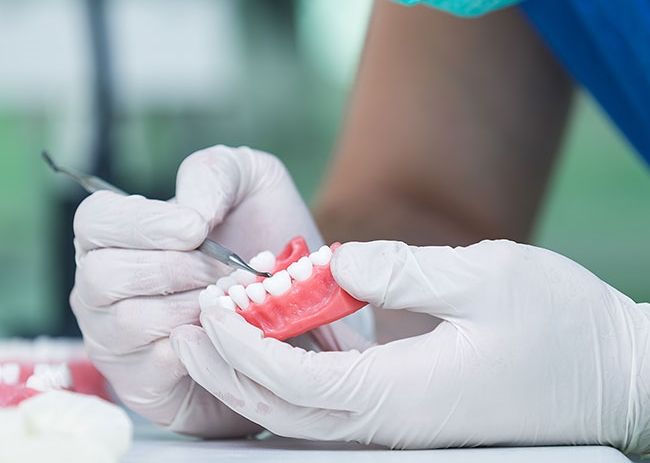 Contact us today to get dentures Plano, Garland TX
Meet with one of our qualified dentists to create a comprehensive and individualized plan that provides you with dentures that are absolutely perfect for you. We will provide you with an informed and experienced opinion about all of your options for missing teeth..
Happy Stories
Creating Vibrant Smiles for Healthy Lifestyles!
It's been a while since I've gotten any sort dental work, so understandably I was nervous; but coming in to the shifa office was the best experience I've ever had. The doctor and staff were so friendly and made you so comfortable with them. I will definitely keep coming here :).

Annagrace Mendoza

Appointment scheduling: very easy, every time get a call back if front desk is not able to answer. Very quick to respond and accommodate your schedule. Very polite.Facility : very descent facility Support staff : probably the best support staff I have seen at any dentist Doctor : Very professional. Explained me the Complete treatment.

Sunil tejpal

As always, I had the best doctor and superb services at Shifa Dental. I never felt the need to go to any other dentist after coming to this place a couple of years ago. Their attention to details is masterful and coupled with the care for their patients they show is truly wonderful. A big thank to all the people at Shifa Dental.

Chandu Chatterjee

It was my first time here and it was a great experience. I have sensitive teeth so they would check in to make sure the cleaning was feeling okay. The staff was very personable and I did not have to wait long. I would highly recommend!

Alexandra Smith

The place is very clean. Necessary precautions were taken by the staff amidst the pandemic and it shows in the quality of the dental service. Deepa K explained to me in detail and ways as to improve where needed regarding my teeth. Mariam and other staff members are courteous. Overall very impressed. This is my second visit.

Ram Venkatram

The doctor and staff was amazing!!!! I loved how the service was I went in and came out extremely fast. Now this is my permanent doctor!

Umar Abdulwadood
HAVE A QUESTION?
FAQ
We are here to help you 7 days a week and respond within 24 hours. Plus, you can find most answers to your questions right on this page.
1How long do dentures last?
Dentures should last 5 to 10 years with proper care and upkeep. Aside from the dentures' wear and tear, your mouth changes over time, and you may decide it's time to acquire a new set.
2What food should be avoided with dentures?
You should be able to eat nearly anything once you've gotten used to your dentures. Some meals are rough on your dentures and might cause friction and irritation. Foods that are hard or sticky, such as caramel, carrot sticks, or a rough cut of meat, or foods that include small particles, such as popcorn or seeded crackers, can be difficult to consume and should be reserved for special occasions.
3Should I Use Dentures while sleeping?
Yes, you can sleep with your dentures on, although it is not encouraged. You should get into the practise of soaking them at night to clean your mouth, gums, and remaining natural teeth, as well as to allow your gums and jaw to rest.