Root Canal
Root canals can be gentle, quick, and painless, providing immediate relief and preserving your original tooth.
Root canal Treatment in Plano & Garland TX
A tooth may be infected or decayed due to a variety of reasons. Infection due to bacteria, or a cavity formation due to improper oral care, are at the top of these reasons as to why teeth become infected.
When it comes to root canals in Plano or Garland, TX, we find that patients come to us experiencing infections which cause shooting pain to the patient's tooth. The longer the treatment is delayed, the more severe the pain becomes. Natural remedies may help for a short time period, but a professional's suggestion is extremely important for a permanent solution.
Sometimes, the problem becomes so severe that patients observe swelling on their face, which spreads to their neck, and later their whole head. Problems with eating, drinking, and talking puts a pause on one's life and this is often when they turn to us for emergency dental care. It is important that you do not delay contacting an emergency dentist to take a closer look at the cause of the problem.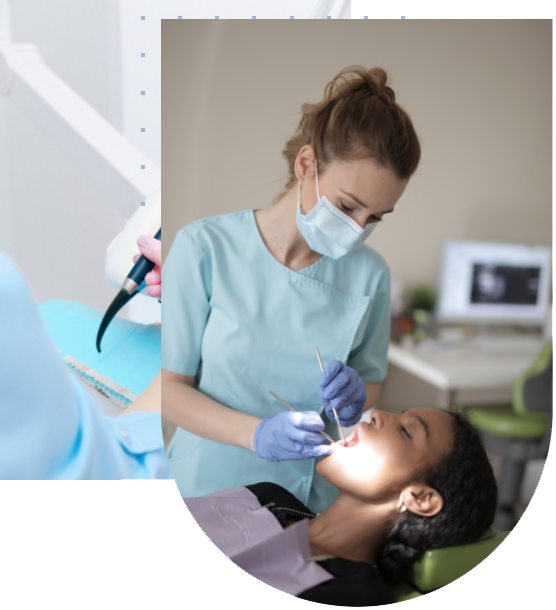 When Should I Make An Appointment With Dentist?
Any tooth discomfort that doesn't go away or becomes worse should be evaluated by a dentist you trust. The longer you wait to get your tooth analyzed, the less likely it is that your dentist will be able to preserve your natural tooth.
If you experience any of the following symptoms, you may want to come see us:
Toothache that won't go away.
Inflammation in your mouth or jaw that isn't going away.
Sensitive teeth to heat, cold, or sweet meals.
Inflammation (swelling) of the gums and teeth around the damaged teeth.
If left untreated, some types of tooth discomfort (such as a tooth abscess) might pose a major threat to your health. If you have an accident and your mouth is injured, seek care right away if you see any signs of infection, such as:
Breathing or swallowing problems.
Swelling or redness in your jaw that spreads to your cheek.
Emergency Dentist At Your Service!
Our expert dentists have a large amount of experience when it comes to root canal or endodontic treatment. They work quickly and effectively, without any pain or discomfort for their patients! Before beginning the procedure our surgeons ensure that you are comfortable in every way possible so there's absolutely nothing standing between you getting better fast and we've got excellent success stories from people who went through surgery here too!
If you think you need root canal treatment or any other emergency dental care in Plano or Garland TX, please contact Shifa Dental today.
Happy Stories
Creating Vibrant Smiles for Healthy Lifestyles!
Appointment scheduling: very easy, every time get a call back if front desk is not able to answer. Very quick to respond and accommodate your schedule. Very polite.Facility : very descent facility Support staff : probably the best support staff I have seen at any dentist Doctor : Very professional. Explained me the Complete treatment.

Sunil tejpal

As always, I had the best doctor and superb services at Shifa Dental. I never felt the need to go to any other dentist after coming to this place a couple of years ago. Their attention to details is masterful and coupled with the care for their patients they show is truly wonderful. A big thank to all the people at Shifa Dental.

Chandu Chatterjee

It was my first time here and it was a great experience. I have sensitive teeth so they would check in to make sure the cleaning was feeling okay. The staff was very personable and I did not have to wait long. I would highly recommend!

Alexandra Smith

The place is very clean. Necessary precautions were taken by the staff amidst the pandemic and it shows in the quality of the dental service. Deepa K explained to me in detail and ways as to improve where needed regarding my teeth. Mariam and other staff members are courteous. Overall very impressed. This is my second visit.

Ram Venkatram

The doctor and staff was amazing!!!! I loved how the service was I went in and came out extremely fast. Now this is my permanent doctor!

Umar Abdulwadood
HAVE A QUESTION?
FAQ
We are here to help you 7 days a week and respond within 24 hours. Plus, you can find most answers to your questions right on this page.
1Is Root Canal Painful?
Our highly skilled staff of dentists and hygienists can perform root canal procedures with minimal to no discomfort, thanks to contemporary techniques and technology, as well as a caring dental attitude.
2How long does root canal treatment takes?
One or two office visits are usually required for a root canal procedure. Simple or mild root canal treatments typically take 30 to 60 minutes, while more difficult cases might take up to 90 minutes.
3Are root canals covered by Insurance?
That is dependent on the type of insurance you have. We may offer you with an estimate to send to your provider after a consultation. We strongly advise you to schedule a root canal as soon as possible. Please
contact us
for details
4Is there any alternate to root canal?
Your tooth pulp and nerve have already begun to erode by the time you realize you need a root canal. This infected tissue will never entirely heal and will eventually re-infect. The only safe option is to remove the pulp.
Estimated Root Canal Treatment Price?
The cost of root canal treatment at Shifa Dental Clinic varies depending on the condition of the tooth to be treated. Please contact our offices in Plano or Garland to get more information.