Tooth Fillings In Plano & Garland, TX
What Are Dental Fillings?
When a patient is suffering from tooth decay, they become prone to infections from various bacteria. These bacteria may enter the space that is created due to the decayed portion of the tooth. To avoid the infection from spreading, our dentists remove the decayed portion of teeth, clean the area, and then fill the cavity that is left with a suitable filling material. This procedure ensures the patient will no longer be susceptible to infections from the decayed tooth.
At Shifa Dental, a modern and trusted family dentistry practice, provides top-quality dental filling services to our patients. Our dentists have a shining record of hundreds of successful filling operations.
Types of Dental Fillings
Amalgam Fillings:

These are also known as silver fillings. These are cheaper than other type of fillings. They do not decay easily; however, silver fillings' dark color make them noticeable. This is the main reason why patients do not prefer amalgam filling.

Gold Fillings:

This type of filling is very durable and usually lasts for more than 20-25 years. However, this type of filling is more expensive than Amalgam fillings. Additionally, patients must make multiple visits to the dentist to fix these.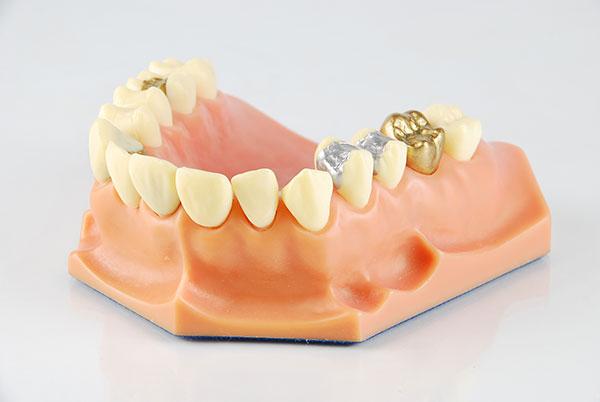 Porcelain Fillings:

Porcelain fillings are equally expensive as gold fillings. Patients can customize these fillings to match the color of their teeth. Another advantage with this type of filling is their resistance to staining.

Composite Resins:

When patients insist on having a natural appearance post-filling, they opt for composite resin fillings. A number of materials are mixed together to create this filling. However, this filling does not last as long as the others mentioned above and they are prone to staining. Composite fillings fall out rather easily; therefore, the filling process may have to be repeated several times.
At Shifa Dental, our dental care experts are highly experienced with each type of aforementioned filling material. They will discuss the pros and cons of each type of filling with you before starting the procedure. In addition, based on the patient's specific problem, teeth, and gums, they may suggest the right suitable filling for the patient.
Happy Stories
Creating Vibrant Smiles for Healthy Lifestyles!
Appointment scheduling: very easy, every time get a call back if front desk is not able to answer. Very quick to respond and accommodate your schedule. Very polite.Facility : very descent facility Support staff : probably the best support staff I have seen at any dentist Doctor : Very professional. Explained me the Complete treatment.

Sunil tejpal

As always, I had the best doctor and superb services at Shifa Dental. I never felt the need to go to any other dentist after coming to this place a couple of years ago. Their attention to details is masterful and coupled with the care for their patients they show is truly wonderful. A big thank to all the people at Shifa Dental.

Chandu Chatterjee

It was my first time here and it was a great experience. I have sensitive teeth so they would check in to make sure the cleaning was feeling okay. The staff was very personable and I did not have to wait long. I would highly recommend!

Alexandra Smith

The place is very clean. Necessary precautions were taken by the staff amidst the pandemic and it shows in the quality of the dental service. Deepa K explained to me in detail and ways as to improve where needed regarding my teeth. Mariam and other staff members are courteous. Overall very impressed. This is my second visit.

Ram Venkatram

The doctor and staff was amazing!!!! I loved how the service was I went in and came out extremely fast. Now this is my permanent doctor!

Umar Abdulwadood
HAVE A QUESTION?
FAQ
We are here to help you 7 days a week and respond within 24 hours. Plus, you can find most answers to your questions right on this page.
1How long do dental filling last
Your fillings should last well over 10 years if you follow a regular brushing and flossing routine and get frequent cleanings and examinations.
2Can I use a homemade tooth filling or temporary fillings?
Over-the-counter solutions can be used to fill a cavity or repair minor tooth damage until you can get to the dentist, but they are not a long-term solution and cannot substitute a professional filling. A cavity is a type of tooth damage that requires a dental specialist to clean, prepare, and fill. Allowing dental rot to progress has serious consequences. Cavities can lead to tooth loss and infection if left untreated.
3How can I treat a dental pain from Cavity?
This is a dental emergency, and we advise you to
call us immediately
if you are having extreme pain that prevents you from eating or sleeping. We can provide you with guidance over the phone and schedule an appointment with you as soon as possible. Apply a cold compress to your face over the sore area for brief alleviation of toothache.