Pediatric Dental Services in Plano & Garland, TX
Your children will love our kid's dentist
Why A Pediatric Dentist?
Pediatric dentistry refers to the category of dentist services which treats the oral problems of children. From birth till adolescence, parents must take their children to a kids dentist in Plano. As per the recommendation of the American Academy of Pediatric Dentistry, a child should start visiting a pediatric dental clinic no later than 6 months after the appearance of their first tooth. Oral hygiene should be at the top of the priority list from an early age. Another equally important point to remember is you should start your child on a healthy habits as early as possible, as the sooner they know the importance of a healthy lifestyle, the better. That's why it is crucial that kids visit a pediatric dentist frequently.
When looking for a kid's dentist for your child, you should always look for someone who is like a friend to the child; kids do not wish to meet another adult who about to lecture them. They look forward to meeting a friend. The dentists at Shifa Dental Clinic have gone through special training to ensure they can create special bonds built on trust with their pediatric patients. They are polite, respectful, and gentle; kids immediately begin to trust them and follow their guidance.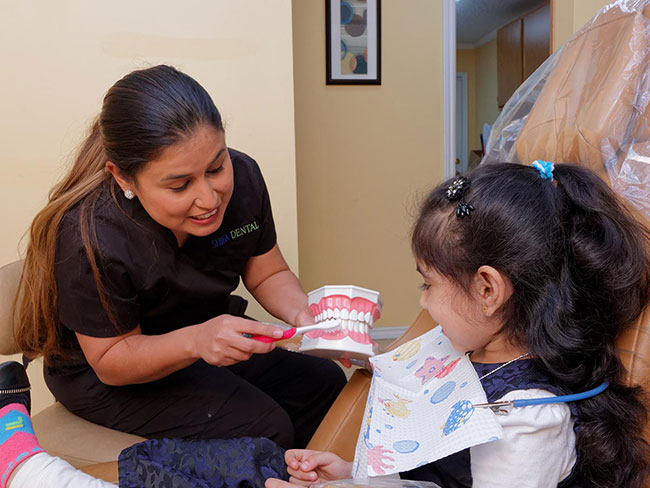 At Shifa Dental, the dentists in our pediatric dental clinic will examine the oral health of infants as well as their mothers. This eliminates a possibility of transfer of oral problems from a mother to her infant child. They perform preventive care, such as fluoride treatment and cleaning. They also recommend diet plans to ensure maximum nutrition. In addition to all of this, we also counsel the parents to get rid of unhealthy habits of the child. For example, the negative habit of constantly keeping their thumbs in their mouths. We will also check whether any teeth straightening might be needed for the child.
They recommend and perform corrections to get rid of teeth which are in bad shape. Other than these specific issues, pediatric dentists correct various oral problems and tooth defects.
We have helped numerous children get rid of their oral health-related problems. Consult a kid's dentist at Shifa Dental today and provide the best dental care to your child.
Happy Stories
Creating Vibrant Smiles for Healthy Lifestyles!
Appointment scheduling: very easy, every time get a call back if front desk is not able to answer. Very quick to respond and accommodate your schedule. Very polite.Facility : very descent facility Support staff : probably the best support staff I have seen at any dentist Doctor : Very professional. Explained me the Complete treatment.

Sunil tejpal

As always, I had the best doctor and superb services at Shifa Dental. I never felt the need to go to any other dentist after coming to this place a couple of years ago. Their attention to details is masterful and coupled with the care for their patients they show is truly wonderful. A big thank to all the people at Shifa Dental.

Chandu Chatterjee

It was my first time here and it was a great experience. I have sensitive teeth so they would check in to make sure the cleaning was feeling okay. The staff was very personable and I did not have to wait long. I would highly recommend!

Alexandra Smith

The place is very clean. Necessary precautions were taken by the staff amidst the pandemic and it shows in the quality of the dental service. Deepa K explained to me in detail and ways as to improve where needed regarding my teeth. Mariam and other staff members are courteous. Overall very impressed. This is my second visit.

Ram Venkatram

The doctor and staff was amazing!!!! I loved how the service was I went in and came out extremely fast. Now this is my permanent doctor!

Umar Abdulwadood
HAVE A QUESTION?
FAQ
We are here to help you 7 days a week and respond within 24 hours. Plus, you can find most answers to your questions right on this page.
1When should I take my child to a dentist for the first time?
Around the age of six months, your child will begin to cut their first teeth. Children should see a dentist by the age of one or within six months of receiving their first teeth. Please schedule an appointment as soon as possible if you suspect something is wrong or if your child is in pain or discomfort. It's never too late for a child to see a dentist for the first time.
2How often should I take my child to a dentist?
The general rule for how frequently a youngster should see a dentist is the same for adults. Generally, every six months, unless a dentist specifies otherwise. Depending on their own demands and finances, some patients choose every three months or every eight months. Between appointments, you should not wait more than a year. If your child is in any discomfort or pain, schedule an appointment right away.