Our pediatric dental services
Your children will love our kid's dentist
P ediatric dentistry refers to the category of dentist services which treats the oral problems of children. From birth till adolescence, parents must take their children to a kids dentist in Plano. As per the recommendation of the American Academy of Pediatric Dentistry, a child should start visiting a pediatric dental clinic no later than 6 months after the appearance of their first tooth. Oral hygiene should be at the top of the priority list from an early age. Another equally important point to remember is you should start your child on a healthy habits as early as possible, as the sooner they know the importance of a healthy lifestyle, the better. That's why it is crucial that kids visit a pediatric dentist frequently.
When looking for a kid's dentist for your child, you should always look for someone who is like a friend to the child; kids do not wish to meet another adult who about to lecture them. They look forward to meeting a friend. The dentists at Shifa Dental Clinic have gone through special training to ensure they can create special bonds built on trust with their pediatric patients. They are polite, respectful, and gentle; kids immediately begin to trust them and follow their guidance.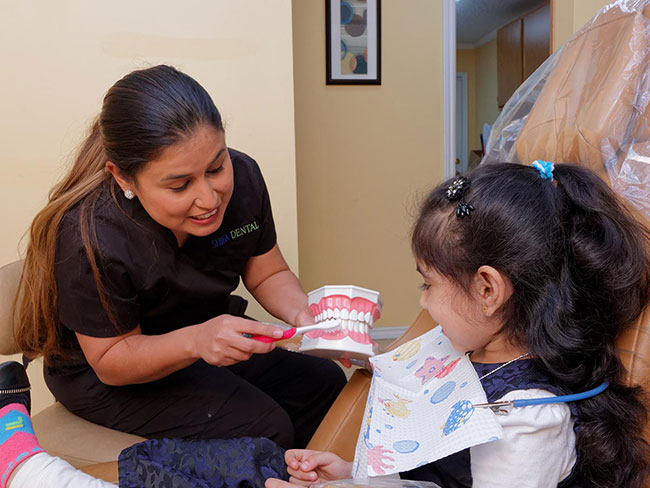 At Shifa Dental, the dentists in our pediatric dental clinic will examine the oral health of infants as well as their mothers. This eliminates a possibility of transfer of oral problems from a mother to her infant child. They perform preventive care, such as fluoride treatment and cleaning. They also recommend diet plans to ensure maximum nutrition. In addition to all of this, we also counsel the parents to get rid of unhealthy habits of the child. For example, the negative habit of constantly keeping their thumbs in their mouths. We will also check whether any teeth straightening might be needed for the child.
They recommend and perform corrections to get rid of teeth which are in bad shape. Other than these specific issues, pediatric dentists correct various oral problems and tooth defects.
We have helped numerous children get rid of their oral health-related problems. Consult a kid's dentist at Shifa Dental today and provide the best dental care to your child.