Teeth Whitening in Plano & Garland, TX
Brighten Your Smile With Teeth Whitening
Teeth whitening is one of the most popular cosmetic dental procedures. And it's no wonder why! A brighter, whiter smile can do wonders for your confidence and appearance. The typical teeth whitening process involves bleaching your teeth to remove any stains or discoloration. But with so many teeth whitening products on the market, it can be hard to know where to start.
The process is generally safe and effective, but it is important to consult with a dentist before undertaking any whitening treatment. In addition, it is important to follow the instructions carefully in order to avoid causing damage to the teeth. With proper care, teeth whitening can help you achieve a brighter, more attractive smile and our expert dentists at Shifa Dental is committed to give you the best service.
Three Different Options for Teeth Whitening at Shifa Dental
Teeth whitening is a process that can be used to lighten the color of your teeth. There are a variety of methods available, including bleaching, lasers, and strips. The most effective method will depend on the severity of the staining. If you are considering teeth whitening, it is important to consult with a dentist to ensure that it is the right treatment for you. Your dentist at Shifa Dental will determine whether you're a candidate for teeth whitening and help you explore your options.
Teeth Whitening Using Store-Bought Kits
If you're looking for a quick and easy way to achieve a brighter smile, then over-the-counter whitening kits are a great option. These usually contain a whitening gel that you apply to your teeth using a mouth guard-like tray. Most OTC kits will need to be worn for around 30 minutes to an hour each day for around two weeks in order to see results. Shifa Dental always recommends choosing a teeth whitening kit approved by the American Dental Association if you decide to whiten your teeth at home. Individual results vary with store-bought teeth whitening kits.
Dentist-Supervised Teeth Whitening
Dentist-supervised teeth whitening kits provide greater results than the aforementioned kits. Normally, there are two types of treatments available:
An in-office teeth whitening treatment that brightens your teeth five to ten shades within 45 minutes.
A dentist-dispensed teeth whitening kit that you can take home with you. These contain higher concentrations of whitening agents compared to store-bought kits, and they're easy to use.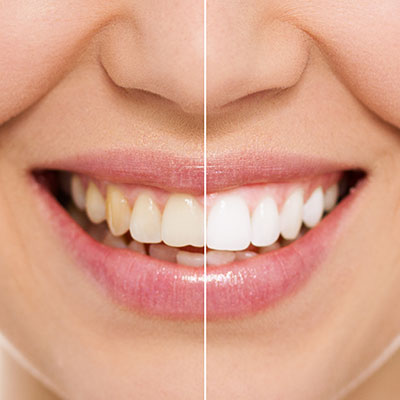 If you are looking for teeth whitening services in Plano or Garland, TX we're always happy to advise and give you more information about your options.
In-Office or Professional Teeth Whitening Treatment
The most common cosmetic dental procedure today is professional, in-office teeth whitening. In contrast to home-use systems that use low-dose bleaching chemicals, in-office teeth whitening takes place under closely regulated settings, allowing for the safe, controlled, and pain-free application of a high fraction of bleaching gel – with rapid effects. If you're after faster results, or if you have sensitive teeth, then professional teeth whitening may be a better option for you. This involves using stronger bleaching agents than what is available in OTC kits, and the procedure is generally carried out by a dentist or dental technician. Professional teeth whitening can give you noticeable results in just one session, although you may need to have top-ups every few months to maintain your new look.
Whatever method you choose, make sure you do your research first and consult with your dentist to find the best solution for you. Teeth whitening in our Plano and Garland, TX clinics offers the best results and is the safest method of bleaching. Thicker peroxide gels (that don't soak into the teeth as much as previous gels) and the use of desensitizers like potassium nitrate and fluoride have made gum and tooth sensitivity more manageable in recent years. Teeth whitening is a great way to boost your confidence and give yourself a beautiful smile - so go ahead and give it a try!
Estimated Teeth Whiting Treatment Price?
The cost of teeth whitening can vary widely, depending on the method used and the individual's needs. In-office whitening procedures performed by a dentist are typically the most expensive option, but they can produce dramatic results in a single visit. Teeth whitening toothpastes, which are available at most drug stores, typically cost around $5-$10 per tube. Teeth whitening strips are slightly more expensive, with a typical price tag of $20-$60 for a 14-day supply. Finally, teeth whitening at the dentist can cost anywhere from $300-$1,000. While teeth whitening is not a necessity, many people feel that it is worth the investment to achieve a brighter, more youthful smile. The cost of Teeth Whiting treatment at Shifa Dental Clinic varies depending on the condition of the tooth and the preferred treatment method.
Happy Stories
Creating Vibrant Smiles for Healthy Lifestyles!
Appointment scheduling: very easy, every time get a call back if front desk is not able to answer. Very quick to respond and accommodate your schedule. Very polite.Facility : very descent facility Support staff : probably the best support staff I have seen at any dentist Doctor : Very professional. Explained me the Complete treatment.

Sunil tejpal

As always, I had the best doctor and superb services at Shifa Dental. I never felt the need to go to any other dentist after coming to this place a couple of years ago. Their attention to details is masterful and coupled with the care for their patients they show is truly wonderful. A big thank to all the people at Shifa Dental.

Chandu Chatterjee

It was my first time here and it was a great experience. I have sensitive teeth so they would check in to make sure the cleaning was feeling okay. The staff was very personable and I did not have to wait long. I would highly recommend!

Alexandra Smith

The place is very clean. Necessary precautions were taken by the staff amidst the pandemic and it shows in the quality of the dental service. Deepa K explained to me in detail and ways as to improve where needed regarding my teeth. Mariam and other staff members are courteous. Overall very impressed. This is my second visit.

Ram Venkatram

The doctor and staff was amazing!!!! I loved how the service was I went in and came out extremely fast. Now this is my permanent doctor!

Umar Abdulwadood
HAVE A QUESTION?
FAQ
We are here to help you 7 days a week and respond within 24 hours. Plus, you can find most answers to your questions right on this page.
1Is teeth whitening safe? Any side effects?
While teeth whitening is generally regarded safe, you may suffer some tooth sensitivity as a result of the procedure. This could happen on your first or second treatment, and it will go away with time. Always read and carefully follow the instructions that come with your take-home kit or over-the-counter product.
2How long does teeth whitening last?
Depending on the type of teeth whitening and how well you maintain your teeth, whitening can last for anywhere from 4 months to up to 12 months.
3Is teeth whitening covered under insurance?
The cost of teeth whitening is rarely covered by insurance. Check with your insurance company to see if you're covered.
Talk to our staff today
to check if your insurance cover it or to get an exclusive teeth whitening deal.
4Does teeth whitening affect my existing filling or implants?
If you have crowns, veneers, or fillings on your front teeth, whitening will not change their colour. The crowns and fillings may stand out more if the surrounding teeth are whitened.