Invisalign Provider in Plano & Garland, TX

What is Invisalign or Clear Aligners
Invisalign is an orthodontic treatment that uses a series of clear, customized aligners to gradually straighten teeth. Unlike traditional braces, Invisalign aligners are nearly invisible, making them a popular choice for patients who are looking for a more discreet way to improve their smile.
In addition, Invisalign aligners can be removed for eating and cleaning, making them more comfortable and convenient than metal braces. Best of all, Invisalign treatment is tailored specifically for each patient, so treatment times can vary depending on the individual case. If you're looking for a straighter smile without the hassle of traditional braces, Invisalign might be the right treatment option for you.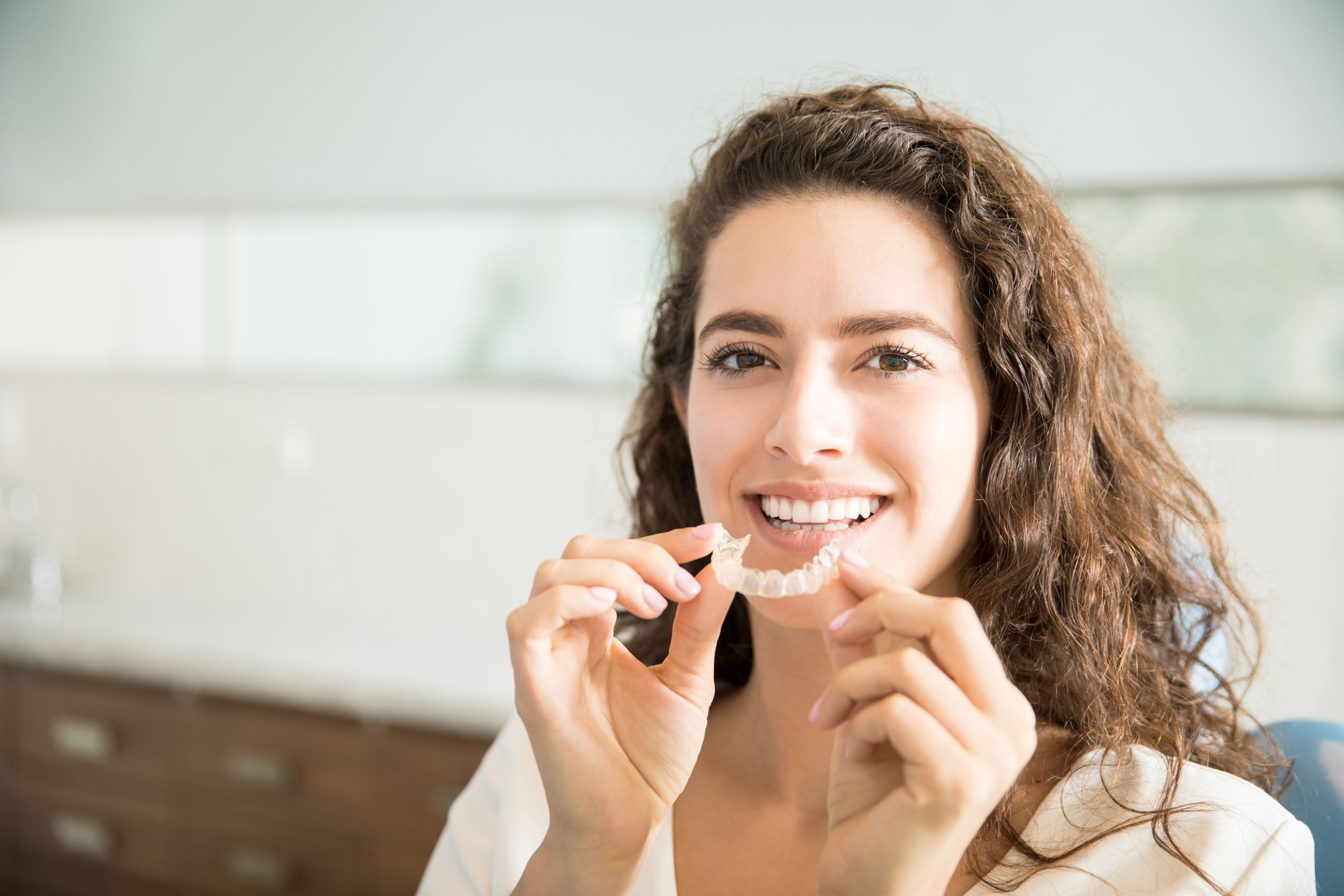 Advantages of Invisalign.
As it's invisible no one may notice that you are taking orthodontic treatment.
Invisalign aligners don't interrupt your life and fit well with you. You can actively participate in all types of activities as you used to do before.
Invisalign aligners don't hurt the soft tissues of your mouth.
With braces you may have more emergency visits to the dentist due to broken or dislodged braces; however, you can skip that with Invisalign aligners.
More comfortable: You can take out your Invisalign aligners when you want to eat or when you want to brush.
You can continue eating all types of foods as you used to enjoy before.
You can maintain your oral hygiene like before, with no fear of new cavities or bad breath.
You don't need any physical impression of your teeth with a sticky material for Invisalign aligners.
Invisalign Treatment Procedure
To begin with, we take a 3-D image of your smile using the iTero Element scanner.
Using the software, we fine tune the impression of every tooth to make sure you get the best smile.
We´ll then show you your future smile virtually. You will be able to see precisely the kind of smile that you will be getting. Once you are happy, we make custom-made aligners to align your teeth.
You wear each aligner for a week or two and move to the next aligner. The Invisalign aligner gently moves your teeth into the place where the new/next aligner fits rightly. You may feel some pressure when you wear the new aligner, but that's normal.
Once you complete your treatment, you need to wear retainers for a specific period to maintain the new improved smile!
Estimated Invisalign® cost
Invisalign therapy is equivalent to traditional braces in terms of cost. The real cost of treatment, on the other hand, can only be determined by your dentist because it will be based on your unique needs, such as the extent of your dental problems, the length of your treatment, and so on. Visit us today at our Plano or Garland clinics and get free consultation.
Happy Stories
Creating Vibrant Smiles for Healthy Lifestyles!
Appointment scheduling: very easy, every time get a call back if front desk is not able to answer. Very quick to respond and accommodate your schedule. Very polite.Facility : very descent facility Support staff : probably the best support staff I have seen at any dentist Doctor : Very professional. Explained me the Complete treatment.

Sunil tejpal

As always, I had the best doctor and superb services at Shifa Dental. I never felt the need to go to any other dentist after coming to this place a couple of years ago. Their attention to details is masterful and coupled with the care for their patients they show is truly wonderful. A big thank to all the people at Shifa Dental.

Chandu Chatterjee

It was my first time here and it was a great experience. I have sensitive teeth so they would check in to make sure the cleaning was feeling okay. The staff was very personable and I did not have to wait long. I would highly recommend!

Alexandra Smith

The place is very clean. Necessary precautions were taken by the staff amidst the pandemic and it shows in the quality of the dental service. Deepa K explained to me in detail and ways as to improve where needed regarding my teeth. Mariam and other staff members are courteous. Overall very impressed. This is my second visit.

Ram Venkatram

The doctor and staff was amazing!!!! I loved how the service was I went in and came out extremely fast. Now this is my permanent doctor!

Umar Abdulwadood
HAVE A QUESTION?
FAQ
We are here to help you 7 days a week and respond within 24 hours. Plus, you can find most answers to your questions right on this page.
1Does Invisalign Hurt?
Changes to your teeth are made gradually with Invisalign. Minor adjustments can be performed in a few weeks with no difficulty, while more sophisticated changes can be made over time to keep you as comfortable as possible. Although there may be some discomfort, if your Invisalign causes you pain, please let us know.
2How long does it take to see the results with Invisalign?
Invisalign might take anywhere from 6 to 12 months to reposition your teeth into the proper position. However, most patients see movement within the first 6 weeks of receiving their first set of aligner trays. No matter which orthodontic treatment you choose, the more changes you want to see, the longer it will take.
3Can I eat with Invisalign in?
Eating with your aligners in your mouth is not a good idea. You can damage or even damage your aligners if you expose them to the powerful chewing forces that your teeth have been trained to exert, and it's also messy and difficult to eat with Invisalign in your mouth.
4Should I sleep with Invisalign on?
Yes, even when sleeping! Except when eating and drinking, they should be worn all day and night. If your clear aligners aren't continually adjusting your teeth over time, they won't work, so you'll have to wear them all the time.
5Am I a candidate for Invisalign?
Probably yes, Invisalign products helps most of the cases where braces are helpful. Most of the insurance companies cover it too. Meet us at Shifa Dental for having your dream smile soon. We address every dental concern with utmost precision and at affordable costs. We also ensure you are comfortable while having high-quality dental care. Call us now to schedule an appointment.
Invisalign and the Invisalign logo, among others, are trademarks of Align Technology, Inc., and are registered in the U.S. and other countries