Dental Veneers in Plano & Garland, TX
Dental veneers are the greatest treatment choice for you if you wish to completely alter the appearance of your teeth in order to attain your dream smile .Dental veneers are thin pieces of porcelain or composite resin that are custom made (for each individual tooth) and then bonded to the front surface of teeth. Veneers can be used to improve the appearance of a single tooth or multiple teeth, and can be an effective solution for a number of different dental concerns. For example, veneers can be used to correct chips, cracks, gaps, and other imperfections. Veneers can also be used to change the shape, size, and color of teeth. Veneers are also very strong and durable, and they can resist staining and discoloration. Veneers typically last for several years before they need to be replaced.
Shifa Dental has several dentists who are experts in the field of cosmetic and restorative dentistry. We have brought back the confidence of many of our patients by applying veneers. If you want to learn more about veneer then we recommend you to schedule a consultation with our dentist today and let us help you to achieve the dream smile you always wanted!
Generally, two types of materials are used to create veneers, and our dentists at Shifa Dental will be able to suggest which material is best for you depending on the condition of your teeth/tooth. Additionally, our dentist will sit down with you and list out the pros and cons of both veneer materials. Next, your dentist sends an impression of your teeth/tooth to the lab and the lab technicians create the veneer that is an exact replica of the sample.
Once the veneer is ready by the lab technician, we will call to inform you and give you some available dates for your next appointment. During your next appointment with us, the dentist will use resin cement to bond the veneer to the affected tooth.
After the veneer process is complete, your dentist will recommend the appropriate oral health products that you will need to take care of your teeth. In general cases, no extra care is required to take care of the veneer; however, if your dentist deems it appropriate, they may recommend a special oral care kit to eliminate any future problem.
Benefits of Dental Veneers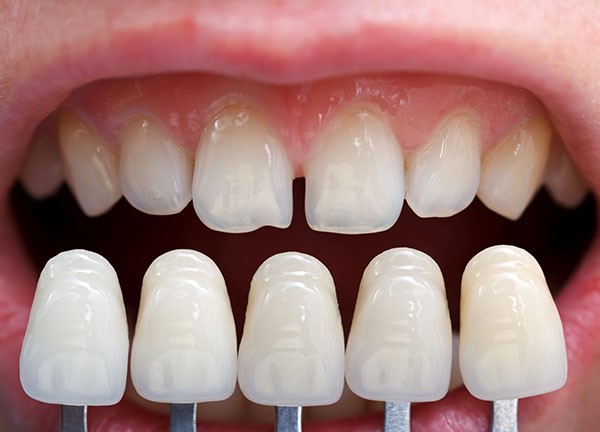 Veneers are used to improve the appearance of your teeth and can also be used to protect them from further damage. Veneers are made from porcelain or composite material and are custom made to match the color, shape, and size of your natural teeth. Veneers can be used to improve the following:
The color of your teeth.
The shape of your teeth.
The size of your teeth.
The alignment of your teeth.
The spacing of your teeth
Veneers are an excellent option for those who want to improve their smile without undergoing extensive dental work. Veneers are also a good option for those who have discolored or misshapen teeth. Veneers are not suitable for everyone, and you should consult with your dentist to see if they are right for you. Dental veneers are the greatest treatment choice for you if you wish to completely alter the appearance of your teeth in order to attain your dream smile.
Estimated Veneers Treatment Price?
Composite resin or indirect veneers are less expensive than porcelain veneers. In general, dental veneer costs depend on several factors, including:
Fees charged by the cosmetic dentist.
Your dental insurance coverage. In most cases, cosmetic dentistry is not covered by insurance.
The type of material used. A porcelain crown tends to cost more than composite or indirect resin.
Whether the treatment is for one tooth or many.
Payment plans are offered by most dentists for cosmetic and restorative dentistry procedures. Ask our dentist about financing options at our Plano and Garland clinics. 
Happy Stories
Creating Vibrant Smiles for Healthy Lifestyles!
Appointment scheduling: very easy, every time get a call back if front desk is not able to answer. Very quick to respond and accommodate your schedule. Very polite.Facility : very descent facility Support staff : probably the best support staff I have seen at any dentist Doctor : Very professional. Explained me the Complete treatment.

Sunil tejpal

As always, I had the best doctor and superb services at Shifa Dental. I never felt the need to go to any other dentist after coming to this place a couple of years ago. Their attention to details is masterful and coupled with the care for their patients they show is truly wonderful. A big thank to all the people at Shifa Dental.

Chandu Chatterjee

It was my first time here and it was a great experience. I have sensitive teeth so they would check in to make sure the cleaning was feeling okay. The staff was very personable and I did not have to wait long. I would highly recommend!

Alexandra Smith

The place is very clean. Necessary precautions were taken by the staff amidst the pandemic and it shows in the quality of the dental service. Deepa K explained to me in detail and ways as to improve where needed regarding my teeth. Mariam and other staff members are courteous. Overall very impressed. This is my second visit.

Ram Venkatram

The doctor and staff was amazing!!!! I loved how the service was I went in and came out extremely fast. Now this is my permanent doctor!

Umar Abdulwadood
HAVE A QUESTION?
FAQ
We are here to help you 7 days a week and respond within 24 hours. Plus, you can find most answers to your questions right on this page.
1How long do veneer last?
Veneers are permanently glued to your teeth and require the same level of maintenance as natural teeth. Veneers can last anywhere from 10 to 15 years with proper brushing, flossing, and checkups.
2How do I take care my Veneers post op?
Maintain your veneers in the same way as you would your natural teeth. Brush with a soft brush  at least twice a day, floss at least once a day, and rinse with an antiseptic mouthwash once or twice a day. After brushing, avoid sugary or acidic drinks and foods, especially before bed. Also, remember to schedule your standard cleaning and checkup every six months!