Dental Crowns and Dental Bridges in Plano & Garland, TX
Dental crowns are a type of dental restoration that encases the entire tooth. They are sometimes also called 'caps'. Crowns are used to restore a tooth's function and appearance following damage or decay. They can also be used to support a dental bridge or to cover a dental implant. Crowns are made from different materials, including porcelain, ceramic, metals, or a combination of these materials. Porcelain crowns are the most popular type, as they provide a natural-looking finish. Dental crowns are usually fitted by a qualified dentist or oral surgeon.
A crown acts as a cap, which your dentist will use to fill the decayed portions of a tooth. Crowns protect the normal functioning of a tooth. Your dentist may prescribe a crown to address issues such as a chipped tooth or an excessively decayed tooth. A dentist will also use a crown to fill the gap created after a root canal surgery.
Crowns eliminate the build up of bacteria due to vacant space created between two teeth, due to any reason. In cases of minor decay, dentists may prescribe other solutions such as veneers, bonding, etc. However, if the tooth is severely affected, the dentist will suggest the application of crown.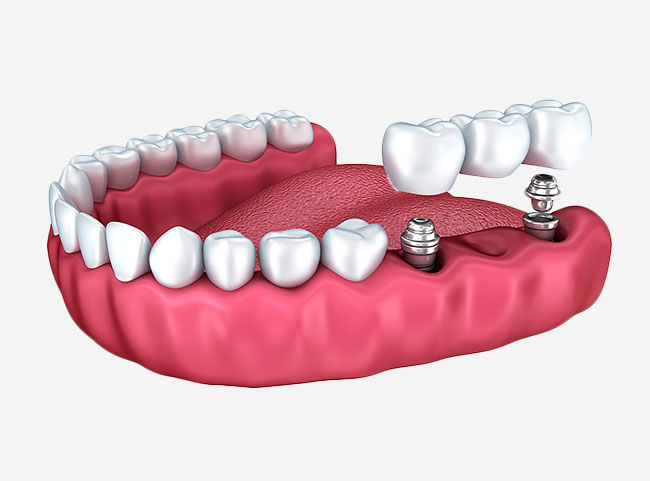 At Shifa Dental, our experience in implementing crowns for our patients is unparalleled. The procedure typically takes two appointment. Generally, during the patient's first visit, our dentist will send a molded replica of the patient's tooth to the lab. Lab technicians will then prepare a suitable crown for the patient's mouth. During this visit, the dentist fixes a temporary crown to the patient until your permanent crown is ready. This ensures that the patient does not run the risk of being affected by bacteria.
We are known for our fast service, and within a few days, we contact the patient to schedule an appointment to have their new permanent crown put in place. Dental crowns usually last for many years, but they may eventually need to be replaced. Good oral hygiene practices and regular dental check-ups can help to prolong the life of your dental crowns.
The most popular types of dental crowns among our patients:
Gold Crown | All-Porcelain Crown | Porcelain Fused To Metal Crown
Gold crowns are prescribed to the patients who have problems with grinding and clenching their teeth and jaws. This is the most durable crown material when compared to other types of crowns. However, this crown is not popular among patients due to the fact that it is so noticeable.
The rest of the crowns are not easily visible to the human eyes, and therefore they are very popular among patients.
Schedule your appointment with Shifa Dental today to determine whether you need crown or another dental solution.
Dental Bridges in Plano and Garland, TX
Dentists utilize dental bridges to fill the gap created due to missing teeth. Dentures and implants may also be used to serve the same purpose; however, your dentist will decide the suitable option after evaluating the current condition of your mouth. The appearance of one's face, hindrance in normal speech, etc. are just a few of the effects of losing one's tooth or teeth.
Once your dentist explains that dental bridges are the most suitable option for your mouth, they will select the appropriate material from a variety of materials. Our dentists explain the pros and cons associated with each of the materials, and then the choice is left up to the patient. Patients may consider their budget, insurance coverage, and other options while making the selection of material. Depending on the severity of one's problem, dentists may take X-Rays to see exactly what the client needs.
The preparation of dental bridges requires molding and shaping the material in an exact replica, as that of the patient's teeth structure. Even the slightest difference may cause future gum related diseases. To ensure that the patient does not suffer the consequences while the preparation of dental bridges is in progress, dentists apply a temporary bridge to the patient's gum. Once the bridges are fabricated, patients receive another call from Shifa Dental to fix and cement the bridge into the place where the temporary bridge was applied.
Here at Shifa Dental, we are famous for our fast response time. This means that our patients do not need to wait a long time to get their permanent bridges cemented. Our lab experts work very hard to ensure that our patients receive their bridges in the perfect shape, in the shortest amount of time.
Schedule an appointment with our dentist today to experience the best dental care available.
Happy Stories
Creating Vibrant Smiles for Healthy Lifestyles!
Appointment scheduling: very easy, every time get a call back if front desk is not able to answer. Very quick to respond and accommodate your schedule. Very polite.Facility : very descent facility Support staff : probably the best support staff I have seen at any dentist Doctor : Very professional. Explained me the Complete treatment.

Sunil tejpal

As always, I had the best doctor and superb services at Shifa Dental. I never felt the need to go to any other dentist after coming to this place a couple of years ago. Their attention to details is masterful and coupled with the care for their patients they show is truly wonderful. A big thank to all the people at Shifa Dental.

Chandu Chatterjee

It was my first time here and it was a great experience. I have sensitive teeth so they would check in to make sure the cleaning was feeling okay. The staff was very personable and I did not have to wait long. I would highly recommend!

Alexandra Smith

The place is very clean. Necessary precautions were taken by the staff amidst the pandemic and it shows in the quality of the dental service. Deepa K explained to me in detail and ways as to improve where needed regarding my teeth. Mariam and other staff members are courteous. Overall very impressed. This is my second visit.

Ram Venkatram

The doctor and staff was amazing!!!! I loved how the service was I went in and came out extremely fast. Now this is my permanent doctor!

Umar Abdulwadood
HAVE A QUESTION?
FAQ
We are here to help you 7 days a week and respond within 24 hours. Plus, you can find most answers to your questions right on this page.
1Are dental crown better than filling?
A crown is substantially more durable for teeth with a large biting surface than a filling. Fillings on the biting surfaces of molars might chip or come free as a result of repeated pressure from chewing or frequent clenching. Because a crown is a single unbroken surface from gumline to gumline, it is engineered to withstand much more stress over time.
2Do dental crown look different than the normal tooth?
In your mouth, dental crowns serve two purposes. To begin with, they fully restore the function of your tooth, allowing you to seal your teeth and chew without pain or discomfort, or having to compensate by biting on one side. Crowns are made to fit in with your natural teeth as a secondary (but equally significant!) feature. That is to say, they are coloured and moulded to fit your style. In fact, it's not uncommon for people to forget which tooth is the crown.
3Do Dental Crown Hurt?
Receiving a crown can feel similar to getting a filling, depending on the quality of your tooth. We take our time to numb the area and then utilise freezing as needed to make the tooth preparation as painless as possible. For a short time after the surgery, you may have some sensitivity or pain in the gums around the tooth. Please let us know if you are afraid of going to the dentist. We'd be delighted to set your concerns at ease and make your visit as pleasant as possible.
4How Do I take care of dental crown?
A dental crown is cared for in the same way that a normal tooth is. Brushing and flossing on a regular basis keeps your dental crown - and the gums that support it - healthy and clean. Regular dental cleanings and examinations are critical to your oral health.
5What is the difference between a dental bridge and a crown?
The terms dental bridge and crown are sometimes used interchangeably. In reality, they serve diverse purposes. Dental crowns are prosthetic caps that are used to cover teeth that have been fractured, chipped, or worn down. They are useful at preventing tooth decay and strengthening teeth. Dental bridges are used to fill gaps left by one or more lost teeth. A dental crown is cared for in the same way that a normal tooth is. Brushing and flossing on a regular basis keeps your dental crown - and the gums that support it - healthy and clean. Regular dental cleanings and examinations are critical to your oral health.
6What are the different types of dental bridges?
Dental bridges come in two varieties: permanent and semi-permanent. Because they are semi-permanent and attached to existing teeth or implants, bridges are sometimes known as fixed partial dentures. The easiest way to distinguish between a bridge (which stays in place) and a denture (which is removable) is that bridges only have teeth, but dentures have pink gums.
7How long does it take to get a dental bridge?
The process usually takes two appointments with each appointment lasting less than an hour.