Diseases Linked To Poor Oral Health
15 September, 2016
Disadvantages of At-Home Teeth Whitening
19 October, 2016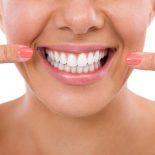 Imagine this: You are forty-five years old with a beautiful white smile and everyone envies you because you have never gotten a cavity. However, one day while going about your daily routine, you experience an unfamiliar pain in one of your back teeth. You decide to get a dental check-up and "Oh no!" Your dentist, who has commended you for years on excellent healthy teeth, informs you that you have a new cavity. All you can think is, "What happened?" "How did I get this cavity all of a sudden?" Believe it or not, cavities, a decayed part of a tooth, can sneak up on us unexpectedly for many reasons.
Here are eleven reasons why people can suffer with cavities all of a sudden:
1. Drinking More Soda

When you excessively drink soda, the sugar cooperates with your saliva's bacteria to form acid. Unfortunately, the formed acid attacks your teeth and in time will begin rotting away parts of your teeth, eventually forming cavities. Additionally, regular and sugar-free sodas contain their own acids, also causing a battle within your mouth.

2. Consuming More Sugary Foods

We all know how sugar destroys and breaks down enamel on our teeth. With an increase consumption of foods containing high amounts of sugar, your teeth is at constant war.

3. Gums Pulling Away From Your Teeth

Known as gum recession, this happen as you age. This unfortunate occurrence results in the exposure of the root of the tooth. Because the tooth's root does not have a protective enamel covering like the rest of your teeth, it becomes more vulnerable to decay and cavities.

4. Sudden Dry Mouth

Saliva contains essential substances that is necessary for your body to digest food and maintain healthy and strong teeth. Saliva provides proteins and minerals that protect tooth enamel and decreases the likelihood of tooth decay. However, life is filled with activities that may cause dry mouth, such as strenuous exercise. When there is a decline of saliva in your mouth, your teeth is at high risk for sudden decay and cavities.
5. Stress

Stress does not just affect your mood. It affects your whole body including your sleep. When you experience stress, you can also develop Bruxism, a term for grinding teeth and clenching jaws. Bruxism can lead to tips of the teeth appearing flat and tooth enamel rubbing off. When the protective enamel covering is rubbed off, doors are opened for tooth decay and eventually cavities.

6. Sucking on Cough Drops

If you are someone who is getting the cold more often, causing you to suck on cough drops more frequently, you are also at risk for suddenly developing cavities. Why is this? These cough medicines contain enough sugar to result in tooth decay. And to top it all off, most people do not know that cough drops is a sugary substance, therefore, they do not brush their teeth.

7. Excessively Brushing Your Teeth

Yes, brushing your teeth will help prevent cavities, but over-brushing will contribute to them. When you brush too much, the toothbrush bristles cut away on your protective enamel covering, which will in the long run have a negative outcome of decay and cavities.

8. A Decrease in Flossing

When you eat, food stores in between your teeth. Even after brushing your teeth, all of the food particles are not reached by the toothbrush bristles. Overtime, this leftover food in our teeth turns into a build-up of bacterial plaque. Flossing your teeth lessens your risk of tooth decay and gum disease by eliminating the escalation of bacteria. Not flossing regularly has a reverse effect, expediting the occurrence for sudden tooth decay and cavities.

9. Consuming More Acidic Foods

Similar to drinking soda, eating more acidic food induces unforeseen tooth decay and cavities. Acidic foods can break down the outer shell of your teeth.
10. A Decline in Teeth Brushing

This reason is obvious. From the time we were growing up, our parents and dentists always told us to brush our teeth at least twice daily if we wanted strong and healthy teeth. Surprisingly, some people do not live up to this important advice. In fact, one in four adults admit to not brushing twice a day, which includes one third of men. Not only that, but brushing only once daily means you are thirty-three percent more susceptible to developing tooth decay and cavities.

11. Not Going to the Dentist

If you have always had healthy and strong teeth, you probably think that going to the dentist is just a waste of your time. After all, he is just going to say your teeth are fine. Right?! This act of assuming is another reason for sudden cavity formation. Remember that tooth decay leads to cavities over time, meaning that cavities can be prevented with an early diagnosis of a tooth decay. Eliminating regular dental check-ups increases your chances of developing cavities.
If you have never had issues with cavities but you get one without warning, there is something you are not doing right. All it takes is reevaluating lifestyle and habits, and coming to a solution to what is causing your new and abrupt cavities. Are you eating differently than before? Are you more stressed? Are you not flossing or brushing frequently? Are you putting dental check-ups off? If you answered "Yes" to any of these questions, then you are already one step closer to solving your sudden cavity problem. The next step is to take corrective action and change!